It is inspiring to hear the former Vice President of India Dr. M Venkaiah Naidu's message of encouragement and motivation to the passing out students, faculty, members of the management, and parents at the joint convocation of Asian Business School, Asian School of Business and Asian Law College. His words reflect the importance of dedication, hard work, and love for the nation to make India a great country.
"It is also noteworthy to mention the significance of Indian education, culture, and diversity as assets of the country that are admired by the world. The reforms and changes brought in the system have paved the way for Indian nationals to reach new heights and contribute to the growing economy," added M.Venkaiah Naidu while giving his convocation address.
"The emphasis on the word "ATMANIRBHAR," which means being ambitious, techno-savvy, self-motivated, having a better attitude, being a nationalist, well-informed, research-oriented, believing in oneself, promoting humanity, being an all-rounder, and being result-oriented, is a reminder of the qualities that are essential for personal and professional growth," said Dr. Sandeep Marwah Chancellor AAFT University and President Asian Education Group.
The presentation of awards and degrees to the students of ABS, ASB, and ALC, along with the Role of Honor and memento of Asian Education Group to Honorable M Venkaiah Naidu, reflects the spirit of solidarity and oneness among the educational institutions. The passing out students were greeted by Mohit Marwah and Akshay Marwah, members of the board, in a display of congratulations and support.
Overall, Dr. M Venkaiah Naidu's address at the convocation underscores the need for all of us to come together and build a new India with our collective efforts, dedication, and hard work.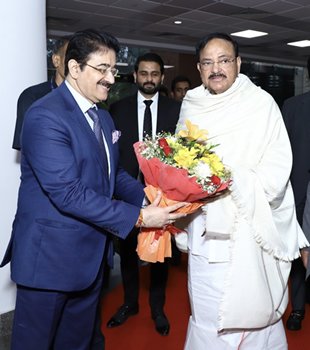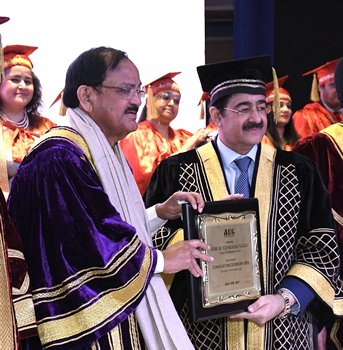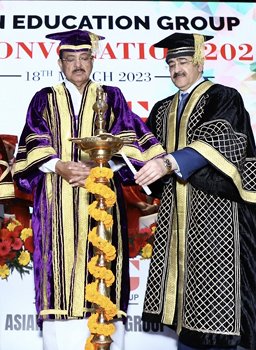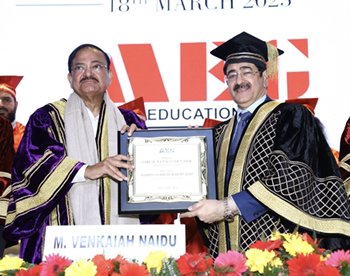 M Venkaiah Naidu Blessed Convocation Of Asian Education Group