Srishti Sharma after succesful released Bollywood and regional Films & Albums  Srishti Sharma Says : as I have fully prepared myself for it. I have few offers, which I am considering minutely. Shortly a big announcement & launching event is to be held with Big Bang & Bash.
I was born  at Delhi, on 16 Sep.  where I was brought up & did my graduation from Delhi University. I started my career as a Model. I started with ACC Cement & B.S.N.L. apart from Music Albums TV Serials.
Her Brief BIO
Name :Srishti Sharma
Height: 5feet7
Weight : 54
Vital : 36_24_36
Birthday Date : 16 September
Sun Sign :  Virgeo
Born: Delhi
Profession :  Model Actress
Colour :  Fair
Eyes Colour :  Light Brown
Hair  : Natural Brown
Hair Length :  Middle Length
Staying :  Mumbai
Brand Ambassador : Swad Pachak
Bollywood Movies :
Monsoon As A Lead
Love Possible As A Lead
Comming Soon Isheq Re As A Lead
As A Guest Appearance In TV Show
Neelesh Chatro Wale
Chidiya Ghar As A Nagin
Horror Show Ye Kaali Kaali Rateen : As A Lead
Ott Films :
Ishq Ek Raaj
Shorts Film
Ad Films :
Print Shoot
Jewellery Shoot
Magazine Shoot
Comming With Ott Films, Ads,  Shorts Films  And Music Videos
Doing Many South Films, she worked with Jagjit Singh and Gippy Grewal T-Series,  ZeeMusic,  Venus
Khusboo Masala Ads  Sawd Pachk as a brand ambassador
When I look back into my life, I feel quite well. Still as an artist, my urge to do something better, always pushes me ahead.
I had been fan & admirerer of Amitabh Bachchan, Shah Rukh Khan & Kajol with whom, now I am ambitious to work as an artiste. I am optimistic about becoming one of the Top Artistes of Bollywood. I believe in the adage 'Where there is a will, there is a way' I am on the right track, right now. One thing, for which I am proud of, is the fact, that I am a self-made-artiste, I have taken no help & no faver from anybody, till date. At present I am only interested in playing lead roles & important roles in multi-starrers. The impotance of the role is created by the artiste who perform it. Only an impotant role cannot make an artiste so impotant. I am sure my confidence will turn into real conviction, I am looking for………………SS
Follow Her On Social Media
https://www.instagram.com/srishtisharmaofficial_ss/
https://www.facebook.com/srishtisharma1234
https://twitter.com/Actresssrishtis?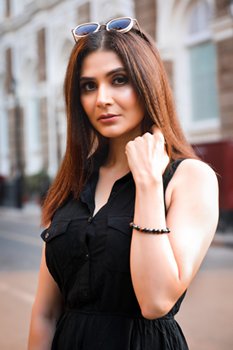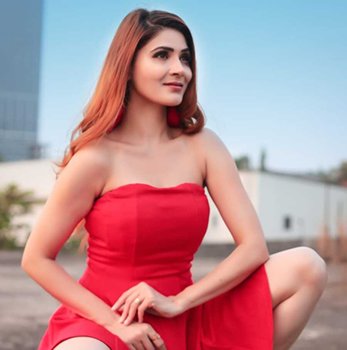 Indian Model Actress Srishti Sharma Her Latest Photo Shoot