Shri Ramdas Athawaleji a well-known social worker, Minister of the Government of India, Shri Rajkumar Ranjan Singh ji, Minister of Education and External Affairs Government of India, National Ex Vice President of the Bharatiya Janata Party Shri Shyam Jaju ji (National Advisor of (DPIAF), Steel Minister of Government of India Shri Faggan Singh Kulaste ji, Shri Kirit Solanki ji, MP from Gujarat, Shri Maluk Nagar ji MP from Bijnor, Shri Arjunlal Meena ji MP from Udaipur, Shri Sanjay Patil ji ACP, Goregaon East.
This award show is going to be held in Dubai on March 15th and 16th, where 70 Actors, Actresses, Dance master's, singer's, Comedian s, director's, producer's of Bollywood and TV industry will be honored with the biggest award of this year. The organizer of this program is Kalyanji Jana, is the Co-Organizer, Ankita Jana, Shiv Aryan, Gaurav Anil Shah, Jitendra Kumar Singla, Dr. Bu Abdullah, Dr. Jitendra Matlani, Nagma Khan, Sheikh Kaleem, Jagruti Soni, Sheikh Amaan, Abdul Chaudhary,Sanjay Panjwani,Sahariar sapon, i have team in dubai Jitendra Kumar Singla (UAE Senior President), Dr. Bu Abdullah (President UAE), Dr. Jitendra Matlani (Vice President UAE), Jagruti Soni (Vice President Women wing UAE), Dr. Anil Sureen (Senior President Dubai), Nagma Khan (Senior President Women wing Dubai), Leena Watnani (President Women wing Dubai), Sheikh Kaleem (President Dubai),  Sheikh Amaan (DPIAF Vice President Dubai Region).
I bow down to all of them going to be held in dubai on 15th march
International Education Iconic Award 2023
International Beauty Iconic Awards 2023
International Real Estate & Business Iconic award 2023
DPIAF – Life Style Iconic Awards International 2023
Going to be on 16th march
2nd DPIAF – Miss & Mrs. India & Dubai Cultural International Fashion Show 2023
*Send Mother Theresa University USA
Honorary Doctorate Award 2023
2nd Dadasaheb Phalke Icon Award Films International 2023
And
DPIAF – Miss & Mrs India & Dubai International Cultural Fashion Show 2023 where culture tourism from 28 states of our country will be presented. This will be the first such show. Along with this, culture tourism of seven states of UAE including Dubai will be introduced. In this way the culture tourism of India and UAE is being presented simultaneously. This is going to happen for the first time in history. At the same time, we are trying to tell the people of UAE that you only visit India once and you do not need to visit 35 countries. At the same time, we are also appealing to the people of India that if you go to UAE, then you will have the best experience of tourism there. Through this fashion show,
we are working to bring the two countries together, increase the business opportunity Kalyanji Jana and his team are taking this step to further strengthen the relationship between the two countriesHe further said that in Dubai we are not only going to do this show but we are going to present India's culture tourism there, we want to show that India is such a beautiful country, to unite both the countries. Today, the big producers, directors, stars, are because of only one person whose name is Shri Dadasaheb Phalke ji.
On 28th February also we will organize a big press conference in which we will tell which stars will come for the award function in Dubai. Next month we and our team are going to Dubai.
Thank you so much
Jay Hind Har Har Mahadev Jay Mahakal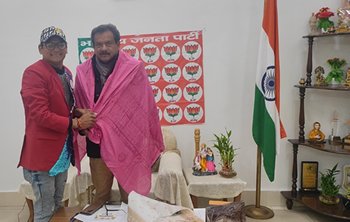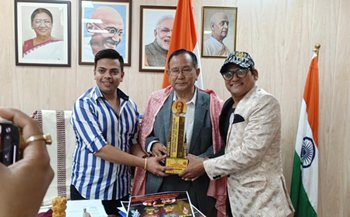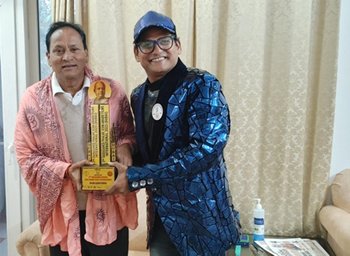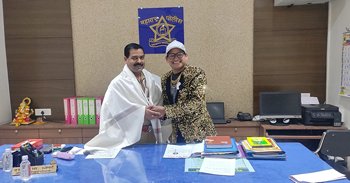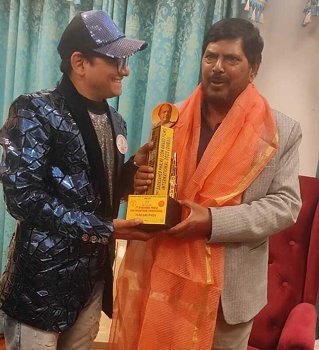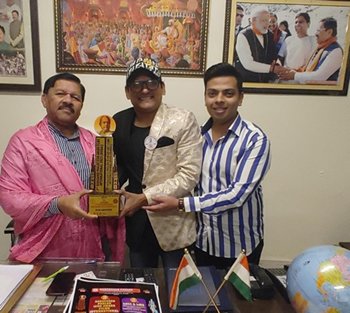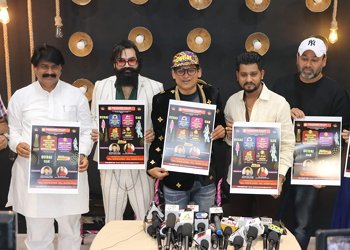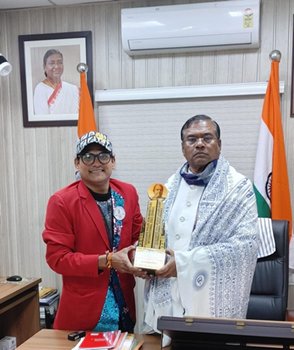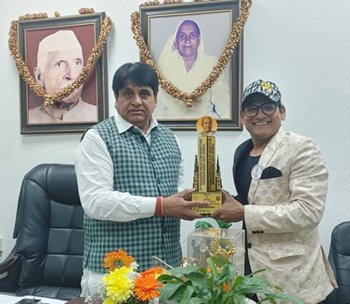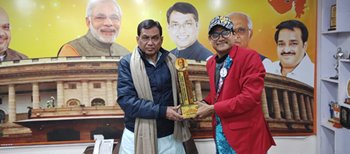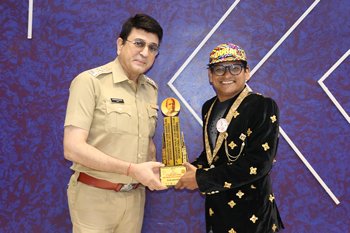 The Trophy And Poster Of The 2nd Dadasaheb Phalke Icon Award Films International 2023 Has Been Inaugurated by Shri Ramdas Athawaleji