From: 11th to 17th April 2023
"Divine Expression"
Solo Show of Paintings by
Eminent Artist Parsharam V. Sutaar
VENUE:
Jehangir Art Gallery
161-B. M.G. Road
Kala Ghoda, Mumbai 400 001
Timing: 11am to 7pm
Contact: +91 98691 70967, 9969535704
Sanctity of Spiritual Ethics & Cultural heritage
Recent work of eminent artist Parsharam V. Sutaar  is showing his paintings exhibition in Jehangir Art Gallery, M.G. Road, Kala Ghoda, Mumbai 400 001 from 11th to 17th April, 2023 between 11 am to 7 pm. This work in Acrylic on canvas will highlight the relevance and sanctity of the religious and cultural heritage of our country and its numerous facets in apt perspectives of visual fine arts.
This show was inaugurated on 11th April 2023 by Mrs. Shaila Parsharam Sutaar(W/o Parsharam V. Sutaar)
Parsharam V. Sutaar had his art education leading to G.D. Arts (Drawing & Painting) in Sir J.J. School of Arts, Mumbai. Then he displayed his thematic work endowed with the relevant artistic muses and textural finesses and the desired visual effects at strategic arenas in leading art galleries at Mumbai, Nagpur, Taiwan Taipei, Chennai etc.  His presentations in solo and group art exhibitions in these galleries were highly appreciated and commended by the art fraternity. He took part in the art camps organised by Govt. of Maharashtra at Ganpatipule, M.P. Govt. in Bhopal and for Indian Army based on the gallantry services of Indian Soldiers etc.  He also assisted and took active part in eight fund raising Master Strokes art exhibitions for Jehangir Art Gallery, Mumbai & 2 shows for N.G.M.A. Mumbai. A proud recipient of awards from Govt. of Maharashtra and Empire award from Pepsi in 2004, his paintings are in collection of many renowned art collectors like Reserve Bank of India, Mumbai, Nehru Centre, Mumbai and several reputed art collectors in America, Kenya, England, Goa, Germany etc.
The present series depicts the subtle nuances of the Indian cultural traditions and heritage of the historical monuments, temples, shrines in an expressive and artistic style. He has been deeply inspired by the beauty of Nature and relevance of the historical monuments at various places. He has incorporated the architectural details of various monumental buildings and the surrounding environment of places of historical importance and cultural relevance at Ajanta, Ellora, Pandharpurand many more places in his endeavours. His lucid visual language of expressions incorporates the use of vivid muses, iconic motifs and spiritual extravaganza of sentimental expressions in apt religious and cultural fervours and their sanctity in proper perspectives. He has artistically and aesthetically adorned his works with ethnic and eternal visual effects at the desired arenas in the work in order to lay emphasis on their relevance in the modern materialistic world full of enjoyment & pleasures and that peculiar attitude of the masses. He has demonstrated numerous aspects of the human attachment towards the monuments of historical and cultural significance and the necessity of the desired efforts towards maintaining their sanctity and relevance in the modern era. He has made and displayed paintings on Buddha and other deities like Lord Ganesha, Lord Vishnu, Indra Sabha, Kailash Temple, Mahishasurmardini,  etc  in his style.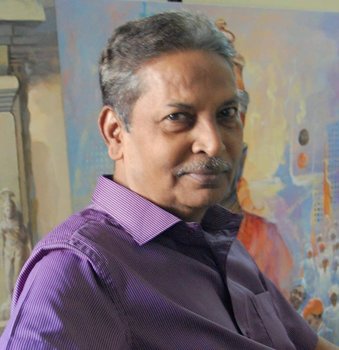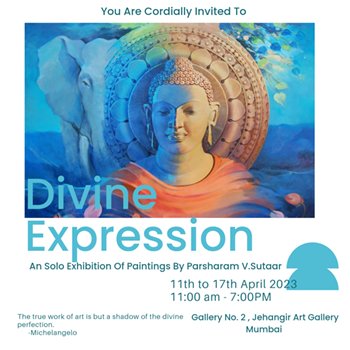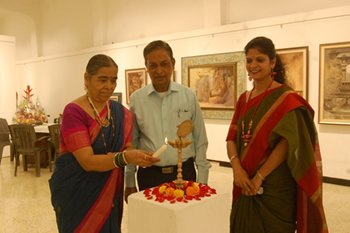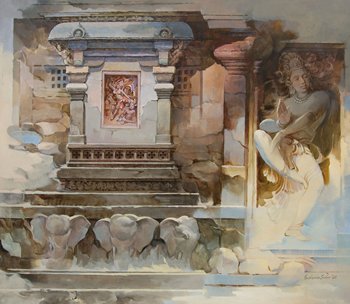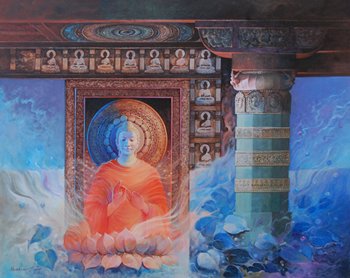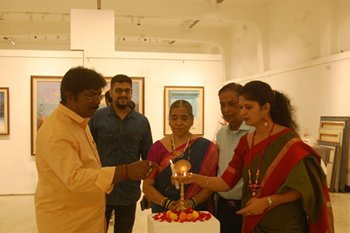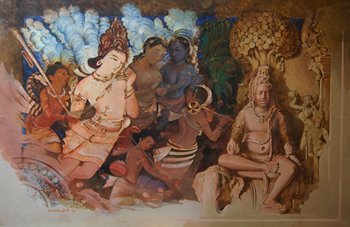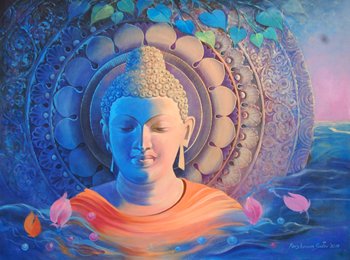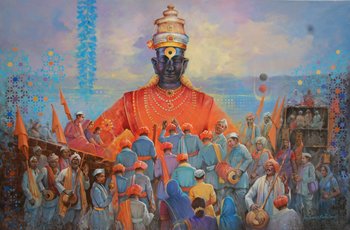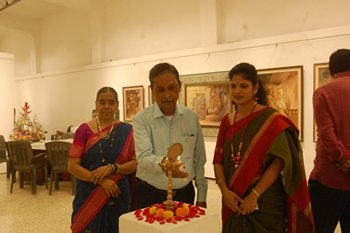 DIVINE EXPRESSION Solo Show Of Paintings By Eminent Artist Parsharam V Sutaar In Jehangir Art Gallery