New Delhi: "What a pleasure to be present at the opening of the Indian Premier of Oscar nominated Swedish Film "Triangle of Sadness" at one of the best theatres of the country. I am feeling charged with new energy today. I congratulate H.E. Jan Thesleff Ambassador of Sweden to India and his complete team from Embassy of Sweden on this occasion and thank him for giving me this opportunity to do the honors," said Dr, Sandeep Marwah founder of Noida Film City, President of Marwah Studios at the grand event at Director's Cut, PVR Cinema, Ambience Mall, New Delhi.
"I am recollecting my involvement with Oscars twelve years back when a short film "Smile Pinky" brought first Oscar to India where we had provided opening and closing titles and the graphics and animation part of the film. I wish feature film Triangle of Sadness may bestowed upon all the awards," added Dr. Marwah also Chancellor of AAFT University of Media and Arts.
"I propose H.E. to formally inaugurate the Indo Sweden Film and Cultural Forum at International Chamber of Media and Entertainment Industry to develop and Promote relations between the two creative Industries of India and Sweden," expressed Marwah.
Triangle of Sadness is a 2022 satirical black comedy film written and directed by Ruben Östlund in his English-language feature film debut. The film stars Harris Dickinson, Charlbi Dean, Dolly de Leon, Zlatko Burić, Henrik Dorsin, Vicki Berlin, and Woody Harrelson.  The story is about Carl and Yaya, a couple of influencers, are invited to a luxury cruise ship alongside a group of out of touch wealthy people. The situation takes an unexpected turn when a brutal storm hits the ship narrated by H.E. Jan Thesleff Ambassador of Sweden to India while addressing the jam-packed hall.
Nyay Bhushan of Connectment, Markus Lundgren Economic Counsellor of Embassy of Sweden, large number of diplomats, film lovers and people from the art and culture fraternity were present there.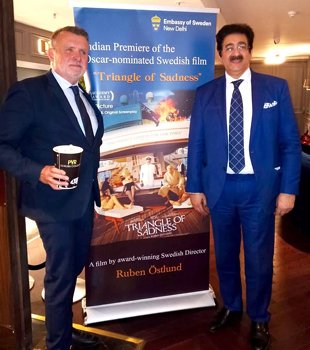 Sandeep Marwah Opened Premier Of Oscar Nominated Swedish Film