ACP Sanjay Patil, ACP Bajirao Mahajan, Abhijit Rane, Dilip Sen, Ismail Darbar, Singer Ritu Pathak, Anil Kashi Murarka, BN Tiwari, Dr. Yogesh Lakhani got the honor_
Dr. Krishna Chouhan, who received the title of show man of the award ceremony in Mayanagari Mumbai, organized the second season of "Rashtriya Ratna Samman 2023" grandly on 26 January 2023 at the Mayor Hall of Mumbai on the occasion of Republic Day.  In this award ceremony presented by KCF, those celebrities were honored who have done excellent work in social service and human service.  Several celebrities were present at the award ceremony organized by Dr. Krishna Chouhan.
Sanjay Patil ACP, ACP Bajirao Mahajan, Composer Dilip Sen, Composer Ismail Darbar, Singer Ritu Pathak, Anil Nagrath, Anil Kashi Murarka, BN Tiwari, Abhijeet Rane, Dr Yogesh Lakhani of Bright Outdoor, Rajkumar Kanojia, Zeenat Ehsan Qureshi were present at the event.  , KK Goswami, Shyam Lal, Rapper Hiteshwar, Social Worker Deendayal Murarka, Dr. Bharti Chhabria, Sundari Thakur, Dr. Archana Deshmukh, Sameera Sheikh, Social Worker Sheikh Shabana Ibrahim and many celebrities were present.  PI Nivrutti Bodhe of DN Nagar Police Station was also present here.  Anchor was Sanjay Aman.  Publicity Designer R Rajpal, Actor Nafe Khan, Raja Chowdhary, Ranjan Kumar Singh, Producer Prakash Das and Keval Kumar of Leo Media Digital were also honored with this award.
Ritu Pathak enthralled everyone by singing several songs on the stage.  She thanked Krishna Chauhan.
The trophy was given to the awardee by Dilip Sen, Bajirao Mahajan, Dr. Krishna Chauhan, Ismail Darbar.  Everyone saluted the spirit of Dr. Krishna Chouhan.
Season 2 of this award ceremony was a huge success.  Dr. Krishna Chouhan looked very excited.
Krishna Chouhan has been working in the industry for the last 20 years.  During the Covid period, he not only distributed ration to the needy, but the biggest thing was that he also presented Bhagwat Geeta to the people.
Rashtriya Ratna Samman 2023 was awarded to social workers, businessmen, people associated with the film industry as well as journalists, photographers.
It is noteworthy that Dr. Krishna Chouhan is not only a successful Bollywood director, an active social worker, but is also considered to be on top in organizing award functions.
Now on 15th March 2023, Dr. Krishna Chouhan is going to organize KCF Presents Miss & Mrs. India 2023 and Nari Shakti Samman Season 2.  Its jury members are ACP Bajirao Mahajan, international motivational speaker Dr. Pareen Somani and singer Dr. Deepa Narayan Jha.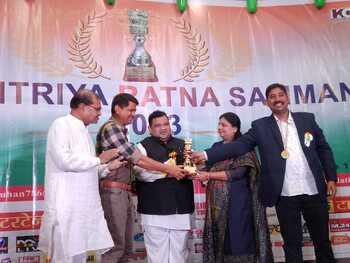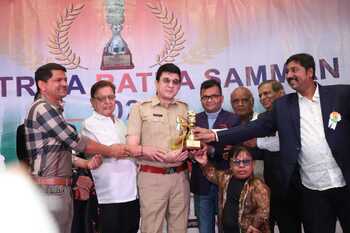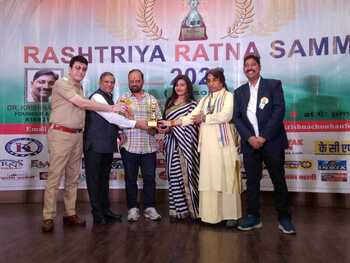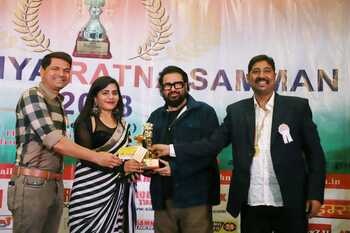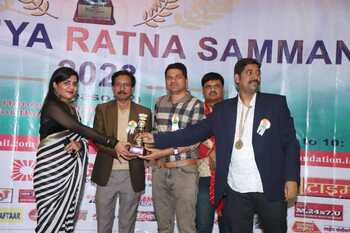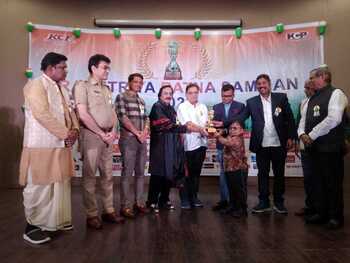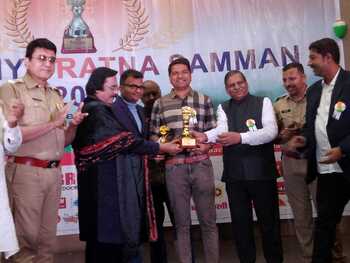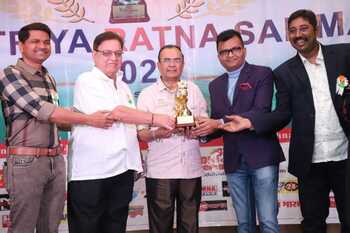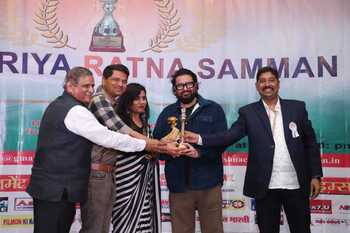 Grand And Successful Organization Of RASHTRIYA RATNA SAMMAN 2023 Season 2 By Showman With Midas Touch Dr Krishna Chouhan In Mumbai