Transformations are inspirational, Well Following the trend and accepting the fact that fitness is a blessing Kashmir Boy Imtiyaz Maqbool Dar has been in the headlines always but this time he has come up by winning the Title "Winner of All Man's Physique 2022" By Jammu and Kashmir Bodybuilding association recognized by Indian Olympics and fitness Federation. Imtiyaz is a wonderful guy who came up with flying colours among one hundred-plus opponents across UT. Trained by 2019 Muscle Mania Champion Umber Rashid who is an other Icon in fitness from Kashmir inspiring Youth.
When asked about Diet and workout Imtiyaz Said
" I Followed regular diet of high protein ,  proper Carbs management under my Guide. Took more than 200gms of protein  per day to meet daily requirement with no cheat meal till competition.
Is Bodybuilding easy for Someone who has less resources ?
Well this was settled more vibrant by Coach Umer that for proper Diet, Protein, Carbs, Fish oil, Multivitamins, Pre workout, BCAA etc. you need money as you can not get all this from natural diet so least you need 30 to 40k per month to afford all this's to maintain good physique you need good financial source, Good Gym, proper sleep of seven to eight hours, Water three to four litres etc.
What's your subsequent  Focus Imtiyaz?
Well I'm planning for the next level now and hopefully will participate on the National level as of now I'm labouring on Gaining lean muscle size so that my weak areas will turn my strength I'm  not working same way but have now altered my workout routine as well to Pro Level.
What's your memorandum to Body builders and those who want to Join it?
Well, I'm Thankful to my Parents for backing me financially, My Coach Umer,  , my friends for being there with me.
I will like to say that consistency is everything you need, patience will keep you growing towards your goal and Diet will keep you updating the next version. Bodybuilding is a blessing and a perpetual investment that everyone must be found.
———-By Raja Sarfaraz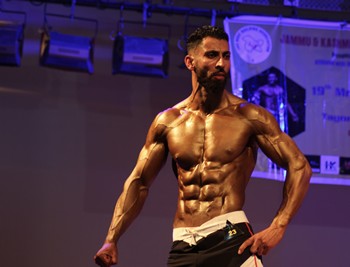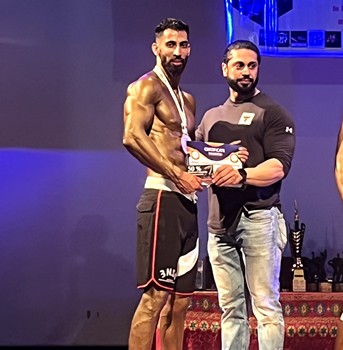 Kashmir Fitness Icon Imtiyaz Dar Is Winner Of All Mans's Physique 2022