Played an instrumental role in taking 23 Indian Feature Films and 3 documentaries to the Oscars in the last 10 years
launch the 10 billion Dollar Project Indywood in 2014 to integrate the Indian Film Industry under one umbrella
More than 200 Film festival recognitions
Latest venture is to transform the education sector through industry-focused Educational Content in Movie Format
Bengaluru: Hollywood Director Sir Sohan Roy was honored by India's I&B Union minister for States L. Murugan at the 5th Innovative International Film Festival in Bengaluru for his impressive and long-standing contributions to the Indian Film Industry. Scheduled from Oct 6 to 9, 2022, the event was hosted at the Innovative Multiplex Film Centre, Bengaluru.
He stepped into the shoes of a director with DAM999 in 2011, India's first Mainstream stream Oscar-qualified movie. He later donned the hat of a consultant as he played an instrumental role in taking 23 Indian Feature Films and 3 documentaries to the Oscars in the last 10 years. His dedication and passion for movies led him to launch the 10 billion Dollar Project Indywood in 2014 to integrate the Indian Film Industry under one umbrella. Indywood became the turning point in the destiny of the Indian Film Industry and its infrastructure. Sir Sohan has produced several Charity Movies on various social and environmental issues, earning him the Knighthood from the Ordo Partis Guelfae, Italy. India's first dual 4K projection theatre, Best Animation Studio, Kerala's first ATMOS sound Mixing Studio, First International Film Magazine for Oscars, Cannes, American Film Market, First Integrated Dubbing System, All Lights Film Festival, Indywood Film Market, etc., were also launched to upgrade the industry quality standards and infrastructure. His unique initiative Indywood Film Carnival was a grand affair showcasing 20 events, including Film Festival, Film Market, Talent Hunt, Investor Meet, etc., in a single venue for four days. The carnival brought together Movie, Media, Music Advertisement, Fashion, and Education Industries, and Billionaires from the respective Industries attended the event as investors, making it unique in every aspect. His directorial works have received more than 200 Film festival recognitions. His movie script was included in the Oscar Library, and 3 songs with his lyrics in the movie qualified for the best music category. His constant attempts to identify young talents through talent hunts in the last 2 decades have brought hundreds of deserving youngsters to the Film Industry.
His latest venture envisions creating a revolution by transforming the education sector through industry-focused Educational Content in Movie Format using teacherless theatre classrooms. His latest initiative is introducing Film Clubs in every educational institute and corporate firm to improve skill development and career design. These clubs are currently gaining much support and appreciation and have been successfully implemented.
Sir Sohan Roy is a true cinema enthusiast who has constantly proved that his visions have the potential to become a 'Game Changer' for the Indian Film Industry.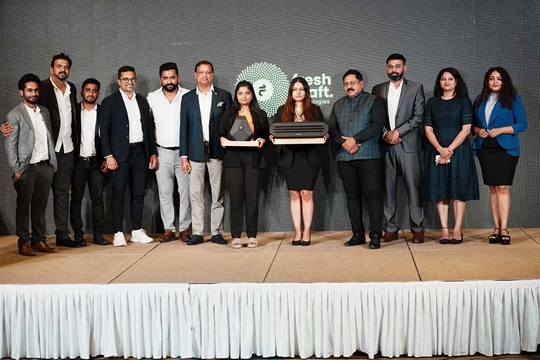 Sir Sohan Roy Honored By I & B Union Minister For States At The 5th Innovative International Film Festival In Bengaluru