From: 13th October to 15th November 2022
AU FILS DU TEMPS | OVER A PASSAGE OF TIME
AQUARELLES BY Renowned artist Subhash Awchat
 VENUE: 
Art & Soul
11, Madhuli, Shivsagar Estate
Worli, Mumbai – 40018
Contact: (022) 2496 5798/ 2493 0522 / 8080055450
What happens when you search solitude within the construct of an artistic practice?
Subhash Awchat's present series of watercolours is a reflection of time, its structure, not measured by a watch but one that is witnessed when we fall humble into a magnificent landscape. In French we would say "aquarelles au fils du temps" or watercolours over the passage of time.
We now face an artist with age. Loneliness is a facet of time. The pandemic allowed us to face our interiority with great intimacy. Awchat was left alone without access to his acrylics or his canvases.  A pad of watercolour paper was all that he had access to.  A pad gifted to his grandson and for colours he had basic watercolours that were fabricated here in India. The command on colour and form-forming is urgent when the brush touches the paper you need to draw with water or the images turn to smudges. Awchat displayed much ability in handling colour and form. He changed his palette.
Illness in old age is always a transformation. Subhash has spent time near a lake in Bhor on the Western Ghats of Maharashtra. This plateau-esque terrain with valleys and a reservoir is stationary in time. Watercolours from here capture Awchat's view of the Sky as blue.  He sees homes dwarfed under the horizon of the Sun. His monk-like figures run under colourful buntings that have affinities of form with geometrical abstraction. We realise how he uses space in his canvases; a particular work divided the paper into a palette of pastels. He is not using ochre. Brown is not to be seen, instead, bright Yellows, Pinks and Light Blues fill spaces where he doesn't find forms.  A social person finally finds in the landscape a form to draw solitude.
– Art & Soul Editorial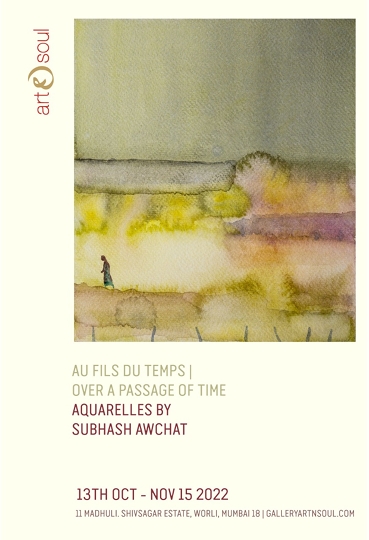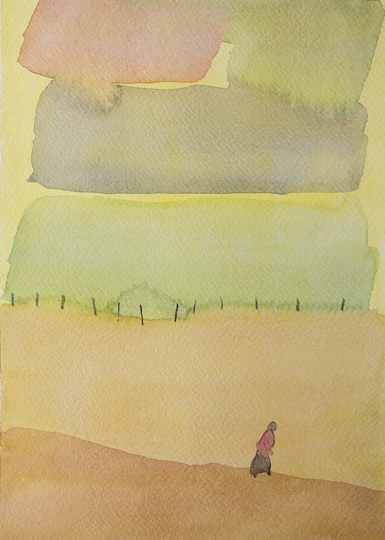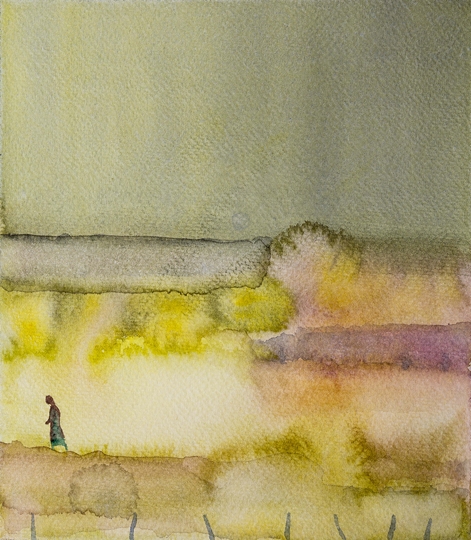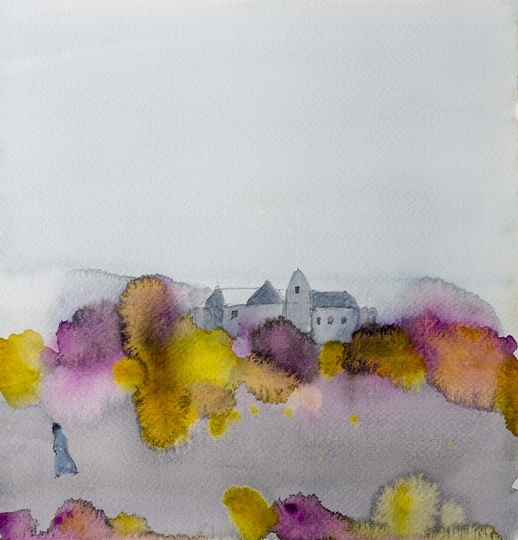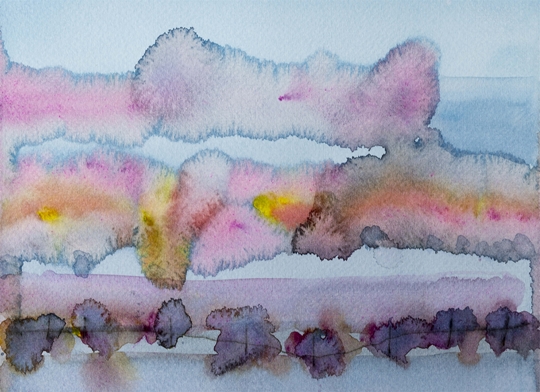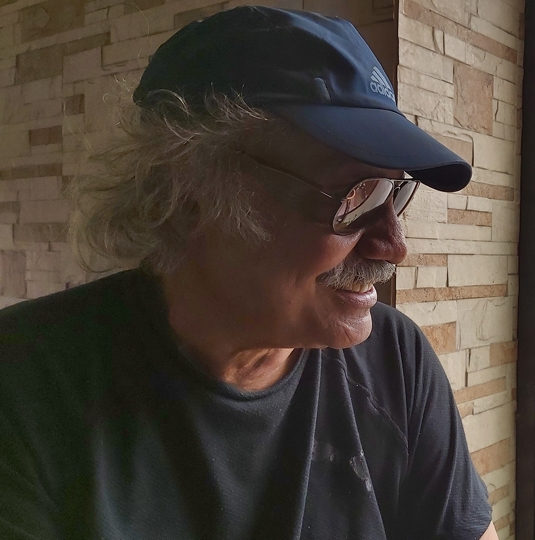 Au Fils Du Temps | Over A Passage Of Time | AQUARELLES BY Renowned Artist Subhash Awchat