Music lovers are getting a lot of love for the song released from Zee Music
Shadab Khan and Seerat Sandhu starrer beautiful music video "Bheegi Bheegi Dastaan" was launched by Bigg Boss fame Arshi Khan, Comedian Sunil Pal at the Cuisine Hall of Mumbai.
This heart touching romantic song released from Zee Music is getting a good response on YouTube. Abdul Mohsin Kidwai has directed this music video. The song is sung by singer Abhishek Shastri in a magical way while the composer is Kalyan Bardhan and the lyrics are penned by Imtiaz Hashmi. The DOP of the music video is Firoz Sheikh. Production Manager is Lalit Gaur, Costume Designer is Sneha Gogoi. Choreographer Bittu Singh was also present as a guest at the launch.
Singer Abhishek Shastri performed live here while Shadab Khan and Seerat Sandhu, who was featured in the music video, danced to the song. Everyone liked the chemistry of both of them very much.
Arshi Khan said that Shadab is a very good friend of mine, this song of his is very amazing. He is also fond of acting, hopefully he will get more success in future.
Ishaan told that I liked the song Bheegi Bheegi Dastan. Shadab and Seerat's chemistry is amazing. This is a very romantic song which is going to hit the reel well.
Shadab Khan thanked Arshi Khan wholeheartedly and said that leaving her work in Delhi, she has come to Mumbai for the launch of my song.
Seerat Sandhu said that thanks to Arshi Khan and Sunil Pal, these people who came for us by taking out time from their busy schedule, we have got all these blessings, so our song is a hit.
Sunil Pal said that this original song by Shadab Khan and Seerat Sandhu is really worth watching. Zee Music was also thankful that he released such a song. Congratulations to the entire team from my side. The song has been shot at beautiful locations.
Arshi Khan will marry next year
Talking to the media here, Arshi Khan said that I am very excited about the marriage of Alia Bhatt and Ranbir Kapoor. I too will get married next year, will be a bride. I will also invite limited people to my wedding but all the media people will come. The people who made us stand out, I find it bad.
Singer composer Sanjay Tiwari, Anu Malik and Jyoti ji were present as guests. Everyone liked the song.
The PR agency of this song is Fame Media.
————–Fame Media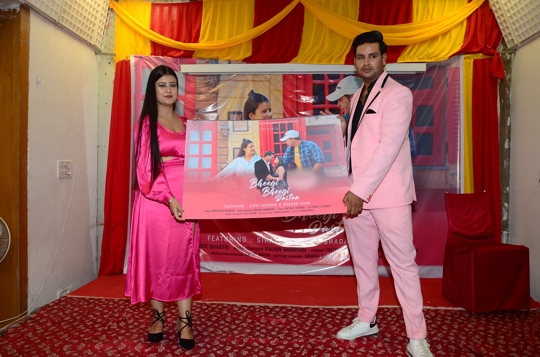 BiggBoss Fame Arshi Khan Launched the Music Video Bheegi Bheegi Dastan