New Delhi: "The love for Asia has induced us to name our all organizations after the word Asian. Few years back we also proposed that there must be a day marked for the unity of Asian Countries and an Alliance was created to high light the relations between these 48 countries of the continent. And we have been celebrating 2nd April as Asian Unity Day under the leadership of Asian Unity Alliance," said Dr. Sandeep Marwah President of Asian Unity Alliance and Chancellor of AAFT University of Media and Arts.
A powerful program represented by the different organizations including Asian Unity Alliance, International Chamber of Media and Entertainment Industry, Marwah Studios, Asian Business School, Asian Law College, Asian School of Business, Asian Academy of Film and Television, Asian School of Media Studies.  Asian News Agency, Asian Event Management and AAFT University were also the participants.
Asia is home to the world's earliest civilizations. Its indigenous cultures pioneered many practices that have been integral to societies for centuries, such as agriculture, city planning, and religion. The social and political geography of the continent continues to inform and influence the rest of the world.
"We are trying our best to bring people of Asia close to each other through art and culture. Our statement that love, Peace and Unity can be brought to the World through Art and Culture is now getting popular day by day," added Dr. Sandeep Marwah.
Dr Lalitya Srivastava Director Asian Education Group, Saurab Sharma Director Marketing AEG and Gurdeep Singh Director Branding AEG also spoke on the occasion. A poster was released to mark respect to The 2nd April as Asian Unity Day.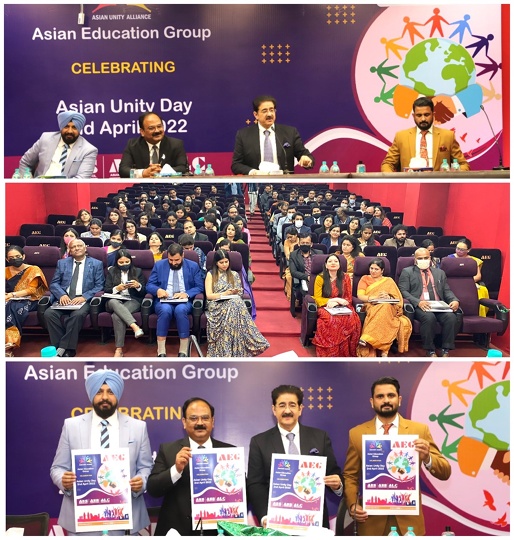 2nd April Asian Unity Day Celebrated by Asian Unity Alliance