Pakistan Legends win Friendship Cup–UAE Championship as it concludes successfully amid fanfare
Sharjah: Pakistan Legends beat World XI by 14 runs to lift the first Friendship Cup – UAE that successfully concluded at the Sharjah Cricket Stadium on Monday, March 7, 2022. Held under the patronage of HH Sheikh Faisal bin Khalid Al Qassimi, the first Friendship Cup – UAE that was sanctioned by Emirates Cricket Board (ECB), was a huge success.
At the presentation ceremony, HH Sheikh Faisal bin Khalid Al Qassimi, Chief Guest and the Chief Patron of the Friendship Cup – UAE handed over the Friendship Cup to Champions Pakistan Legends, flanked by a number of dignitaries,
Mr. Abdelrahman Elbah
A representative of his highness faisal bin khalid Alqasimi
Mr. Mohamed magdy
Legal consultant dr. Khalid kanah
Mr. Qasim almorshdi including, General Mahesh Senanayake, former Chief of Army Staff of Sri Lanka, Aarefa Saleh Al Falahi, Member of Board of Director RAK chamber, Eng. Aliya Al Kindi, Dr Bu Abdulla, Hamad N Al Hammadi and Head of Organisation Committee, Mr Husaifa Ibrahim.
The organizing team led by Mr Amin pathan Founder and chairmen, Aslam Gurukkul Co,founder & Chief Executive Officer of Arba Sports Services, Noufal Qudran, & Anas pathan Director Operations, Habib Koya, COO of Arba Sports, event & media director Naghma khan & Muneer Bin Mohiyadeen,  and adviser Zaheer ahmed  ,Asutosh Pattanayak Chairman and President WSS London and Spokesperson for French Embassy, was also present at the ceremony.
Pakistan Legends piled up 133 for five in their stipulated 10 overs, powered by Salman Butt's 45 off 20 balls and Mohammad Sami's 36 off 10 balls. In response, World XI started off well, despite Asghar Afghan's early exit. Phil Mustard with 50 off 21 balls and Tillakratne Dilshan with 34 off 16 balls looked dangerous after putting up a 78-run partnership and looked like they were in a hurry. A few quick wickets in the following overs due to good bowling by Mohammad Irfan took the game out of World XI's hands.
With this, the three-day star-studded Friendship Cup – UAE 2022, that features cricket legends including former Indian Cricket Captain Mohammad Azharuddin, Bollywood star Suniel Shetty, former Pakistani cricket sensation Imran Nazir and Sri Lankan star cricketer Ajantha Mendis came to an end. However, this is more likely to be the end of a new beginning for Friendship Cup, that could become an annual fixture in the global cricketing schedule.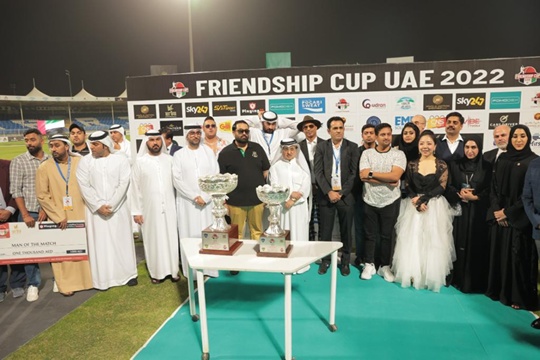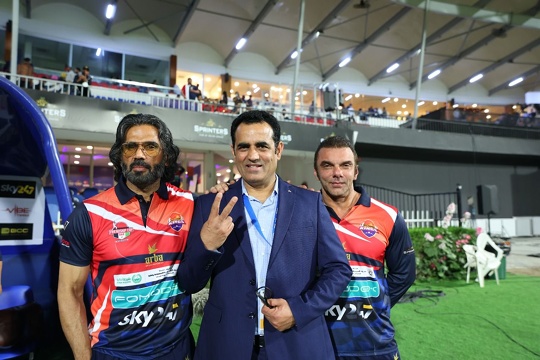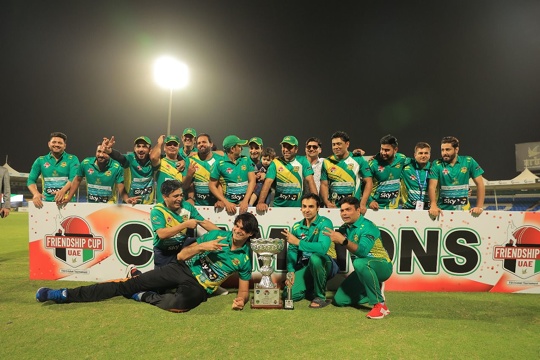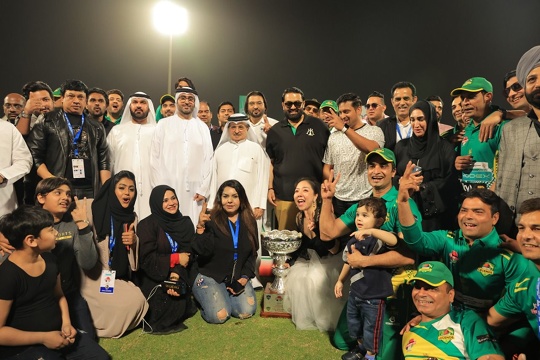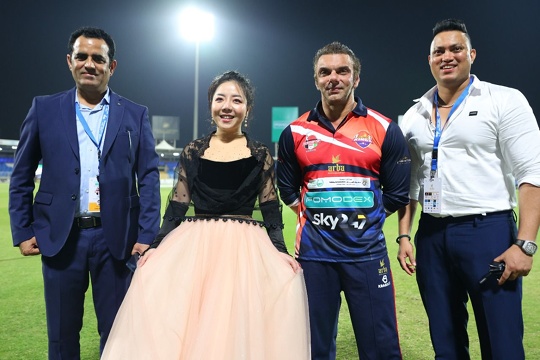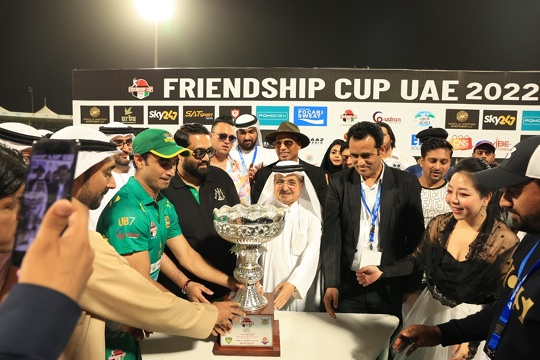 Pakistan Legends win Friendship Cup–UAE Championship as it concludes successfully amid fanfare – March 08, 2022 by Maagulf