The Cine and TV Artistes Association (CINTAA) and International Chamber of Media and Entertainment Industry (ICMEI) have collaborated with each other for the fulfilment of their respective aims and objectives by signing a MoU on 26th February at 3 pm at the office of CINTAA in Andheri.
As per the agreement, ICMEI will provide office space to CINTAA at their premises located at Marwah Studio, FC- 14/15, Film City, Sector 16 A, Noida 201301 to carry on its activities in the Delhi NCR and North India region.
CINTAA on its part will provide work permit cards to the diploma and degree holders in acting of Asian Academy of Film & Television (AAFT) and AAFT University on payment of applicable admission fee and annual charges.
Says Amit Behl, Hon General Secretary, CINTAA, "Due to the pandemic, a lot of our members and actors have relocated to other places, states that are offering subsidies. Hence this collaboration offers an  alternate centre of member relief and also helps cleanse the ecosystem wherein producers, broadcasters and the media and entertainment industry benefit. It is two well-meaning organisations coming together at the right time. The MoU aims to strengthen ties and pave the way for a robust future."
Ashok Tyagi, Secretary General of ICMEI averred,
"it is a historic MOU which is relating CINTAA, which is an International association of actors with the AAFT University of Media and Arts through International Chamber of Media and Entertainment Industry (ICMEI). It is the recognition of the fact that acting is not merely a skill but also an academic art. The MOU will give the social recognition to the profession of acting which was long overdue to it."
Sandeep Marwah, Chancellor, AAFT University of Media and Arts and Founder, Marwah Studios, Film City, Noida, said "We are proud to be associated with CINTAA. I am sure together we will be able to bring in massive changes in creative education and especially in acting. The input from CINTAA members is going to be the most authentic and full of experience. We invite members to visit and see for themselves how we are organised."
This move will go a long way in benefiting actors from the northern regions as they can now easily reach out to CINTAA.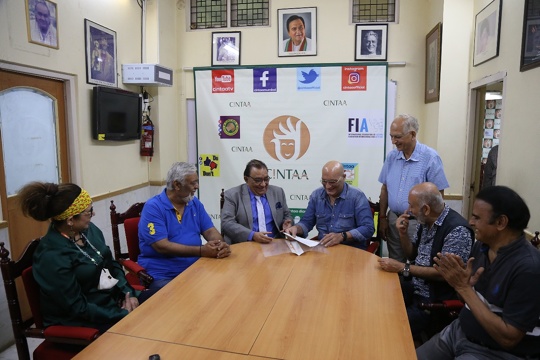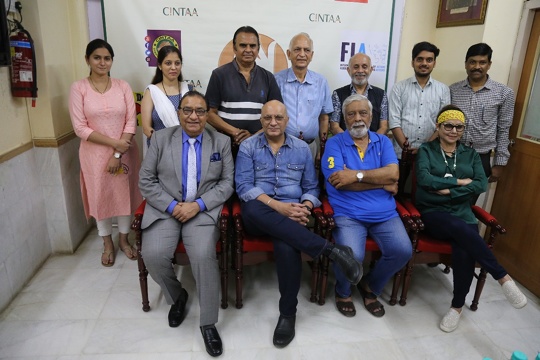 CINTAA – ICMEI collaborate  strengthen ties with MoU