After months and months of anticipation, singer, composer, lyricist and digital superstar Keshav Malhotra is out with his track "Nasha Chad Gaya"
It seems like Keshav Malhotra and Ramji Gulati are looking out for more trending stuff to connect with the youth.
Shot in exquisite locations of Dubai, "Nasha Chad Gaya" is one of the most stylized videos in a long time. Keshav will be seen in a never-seen- before avatar for the music video.
"Nasha Chad Gaya" packs in oodles of glamour quotient. It opens with a fun opening verse and then launches into hiphop mode with party beats.
Apart from featuring in the song Keshav has given the vocals, penned the lyrics and composed the music to the song.
Ramji Gulati says "We are very excited for Nasha Chad Gaya. The video is shot on a very large and lavish scale. I have been lucky that audience have loved all my songs. It's great to be appreciated  and loved for your work. I am looking forward to the reaction from the audience"
Keshav Malhotra says "Nasha Chad Gaya is the song which makes you groove to its beats, dive into the magic of music and vibe"
Khushi Chaudhary says "Excited and nervous. We had a great time shooting for the song, hope the audience loves it as much as we do"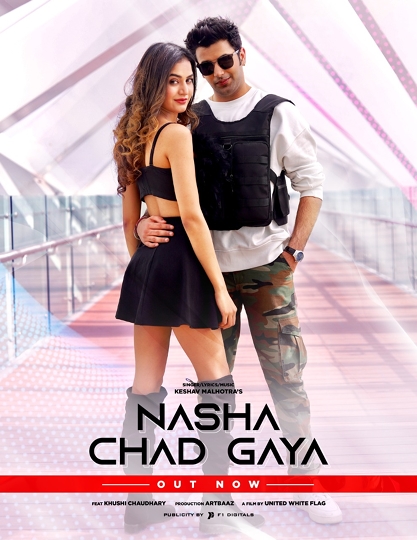 Film by Ramji Gulati
Feat- Keshav Malhotra & Khushi Chaudhary, A Film by – Ramji Gulati , United White Flag , Singer/Lyrics/Music- Keshav Malhotra, Female Vocals -Neha Malhotra, Styling – Dharti Gulati, PR- Parul Chawla , Choreography – Shashank Dogra, Produced by – Artbaaz.